Bibione is a holiday town along the Adriatic coast of Italy, north of Venice. Clear blue waters, beautiful nature and a large variety of seaside fun activities makes Bibione a wonderful holiday destination for persons who like the sea. At the same time, it also provides lots of opportunities to explore Roman, medieval and renaissance culture and architectures in historical small towns around Bibione. (Check the link to "
Travels
" on this blog and then scroll down to "Travels in Italy" and look at posts about "North-east" to find information about places to visit around Bibione)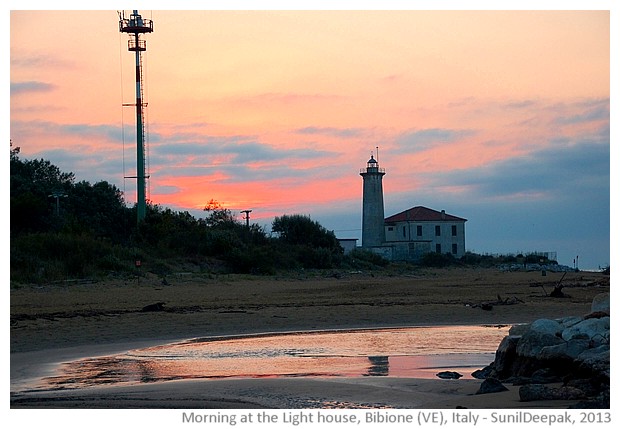 Thus if you are planning holidays in Bibione, this post is for you.
I had visited Bibione for the first time in 1982. It was an old swamp-like area till 1960s, while Lignano Sabbia D'oro to the east of Bibione, across the river Tagliamento (behind the light house) was a famous holiday destination. The first houses in Bibione had come up in the eastern part of the beach, the area that is now known as "Lido dei Pini". In the 1970s, my sister-in-law had bought an apartment in that area. Thus, spending some time of our annual summer holidays in Bibione became an annual rite and continues till today.
Since those early days, the city grew, mainly towards the west in areas called Pineta and Lido del Sole, with hundreds of hotels and holiday homes and is now one of the biggest holiday centres in the north of Italy.
Reaching Bibione
The nearest airport is Venice airport about 90 km away. Bibione is connected to Venice and the airport by taxis, boats and buses. The nearest railway station is in Latisana, about 25 km away. Latisana is connected to Bibione by taxis and buses (Image below: Latisana city centre, about 200 meteres from the railway station - here you get the bus for Bibione).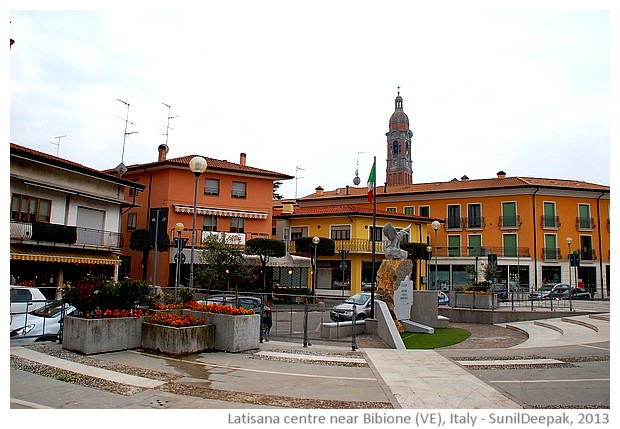 Just for staying in Bibione you do not need a car, you can walk every where though with the growth of the city, reaching the far end of the new areas in Pineta may need 15-20 minutes of walk. However, if you wish to visit the neighbouring towns such as Caorle, Portogruaro, Splimbergo, Redipuglia Aquileia, Grado and Concordia-Sagittaria, you will need a car. (Check the link to "Italy" on the tab above to find information about places around Bibione)
If you are travelling by car, the nearest highway exit is Latisana (Image below: the roundabout marks the beginning of Bibione, straight and to left takes you to city centre and light house, right to Pineta and Lido del Sole).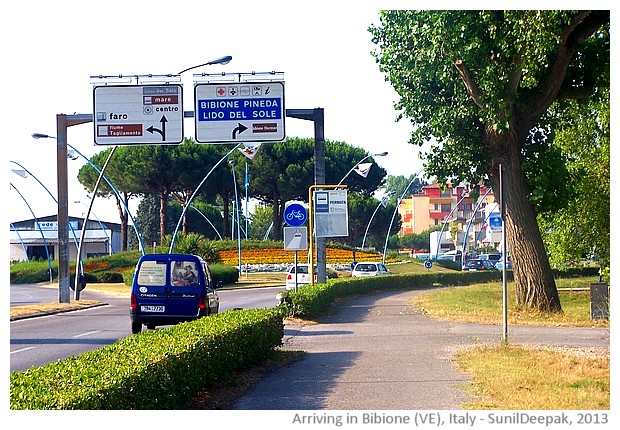 If you are travelling by car, remember that on the weekends in the peak season (July-August), the traffic can be strong and slow-moving, so keep the gas-tank full and plenty of water or other drinks.
For staying in Bibione, there are lot of options - apartments, independent houses, residences and hotels. Most hotels are close to the sea, while most houses and apartments are more inland, many of them have swimming pools. Bibione is full of agencies that manage rents and buying of properties, especially on the main road, just behind the roundabout shown in the image above. (Image below: independent houses in Bibione in Lido dei Pini)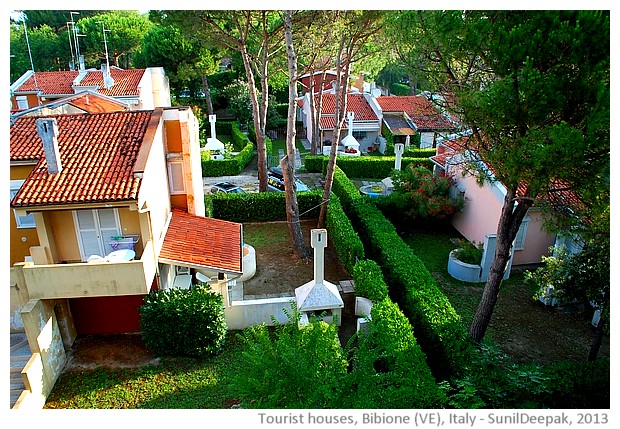 Fun at the seaside
Personally I am not very fond of lazying around on the beach. I did it when our son was small and he used to love the beach, but now I usually go to the beach only for a swim or an early morning/evening walk. If you plan to spend lot of time on the beach, you may prefer to rent an umbrella and some reclining chairs. Beach is divided into areas, each with its own distinctive colours of umbrella, managed through a kiosk where you can rent per day, per week or for a month.
If you do not mind carrying your own umbrella and chairs, at the extreme edges of the beach, there are some free areas. Apart from the free beaches, there are also places where dogs are allowed near the umbrellas.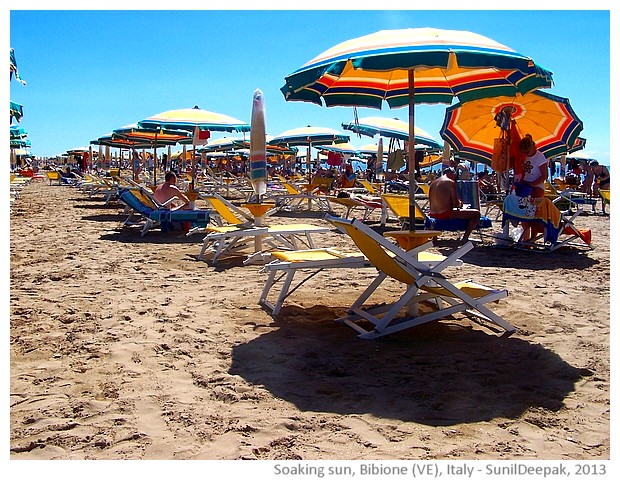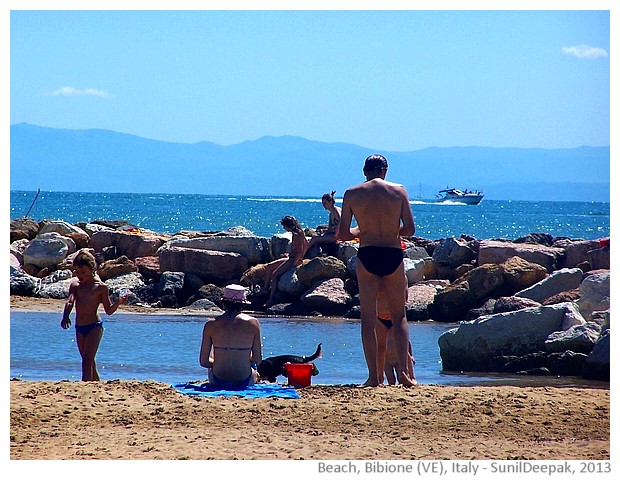 The sea round Bibione is wonderfully blue and clean, as can be seen by the growth of clams on the rocks near the light house.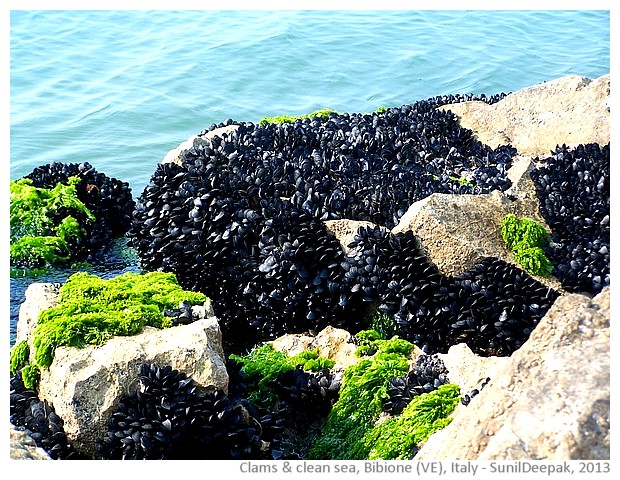 Nature walks
However, Bibione is not just about soaking sun, seaside walks and swims. The surrounding countryside is also good for nature walks and bicycle rides. You will find farmers in the fields, country houses selling fresh vegetables, ducks walking across the path and many horse-rearing places where you can try horse-riding lessons.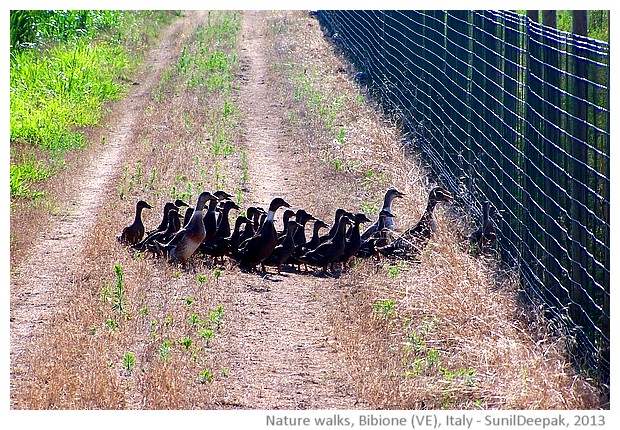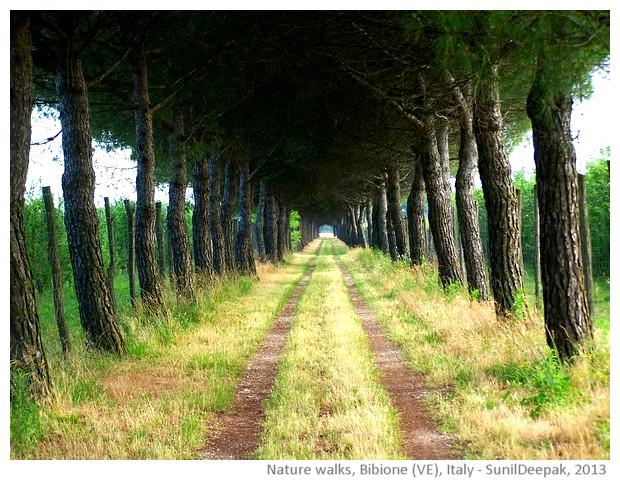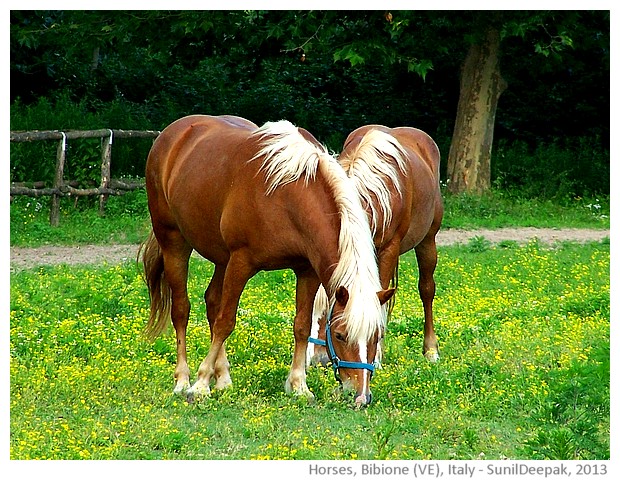 Adventure sports or calm, lazy days
If you prefer something more adrenalin stimulating, you can try paddle boats, water-scooters, speed boats, or wind-surfing. Many schools for teaching and renting boats and equipment are based along the seaside.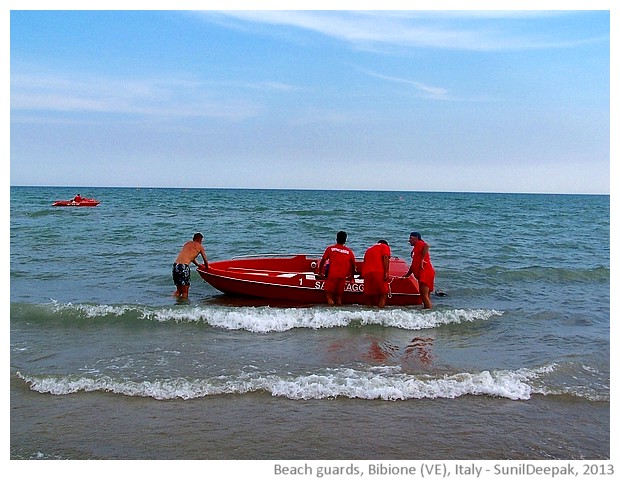 On the other hand you can also try playing Bocce (bowls) or handball or attending some beach-dance class. Evenings have concerts in the promenade in Piazza Zenith near the sea and some nights have the fireworks displays, usually at midnight.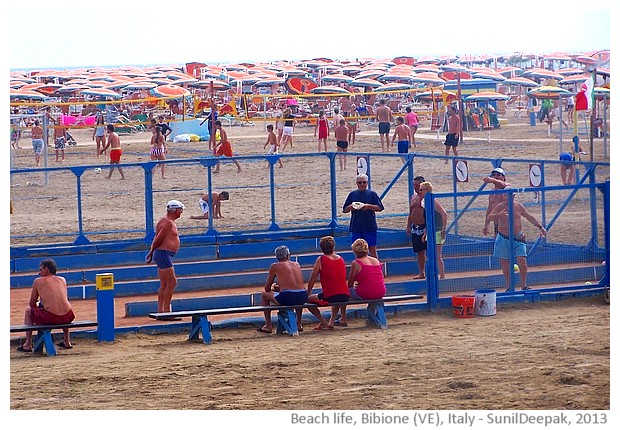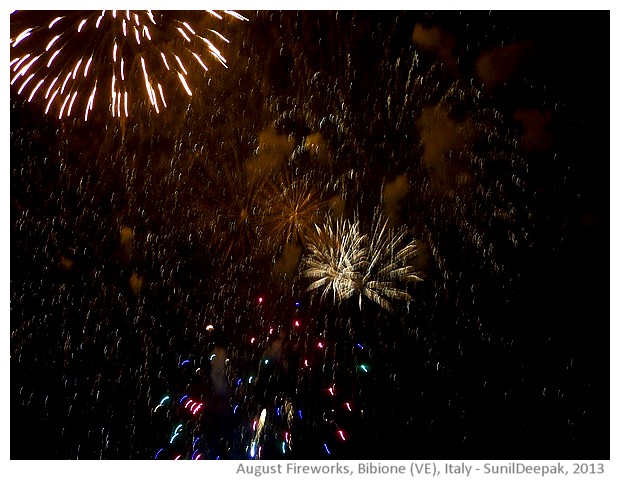 The city is full of restaurants and pizza take-aways. Around Bibione there are many good places to go out for food. One of our family favourite places is Brussa, about 10 km away from Bibione, going towards Caorle. Brussa has a tiny castle and a fish restaurant called Mazarak. From the unpretentious sleepy family place that served great fish, over the years Mazarak has grown up as a landmark in this area and is usually full. Going to Mazarak and finding the young family members who have now grown up with their own families and children, is our annual ritual.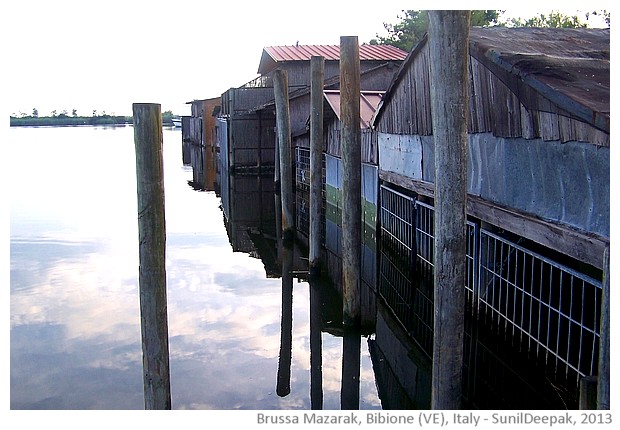 If you proceed further down the road from Brussa towards the sea, you reach a camping area and a wonderful marine park, Porto Falconera.
The city centre
If you do not wish to go out of the city, you can go for a walk in the city centre, full of shops and amusement arcades for children. Unfortunately the city does not have any public wi-fi hot spots (at least it did not have them when I was there last time), however hotels and many bars and eating places have wi-fi.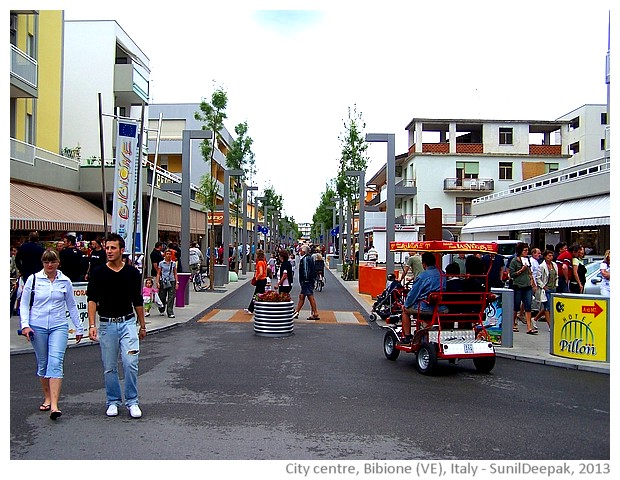 Close to the city centre are the fairgrounds that usually have a circus and a big amusement park during the summer.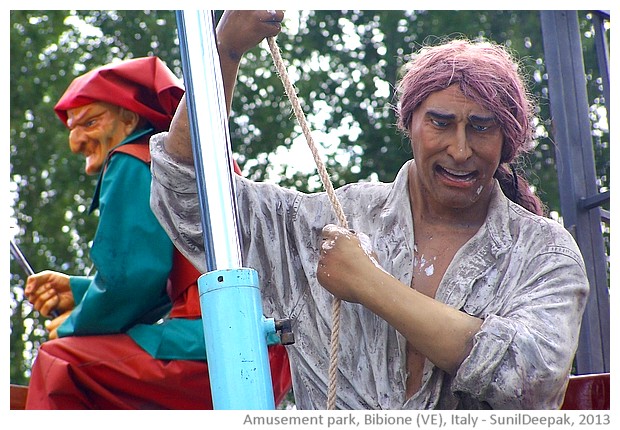 Conclusions
I have spent so many wonderful days in Bibione going for walks and spending time on photography. To conclude this post I want to share three of my favourite nature shots from Bibione.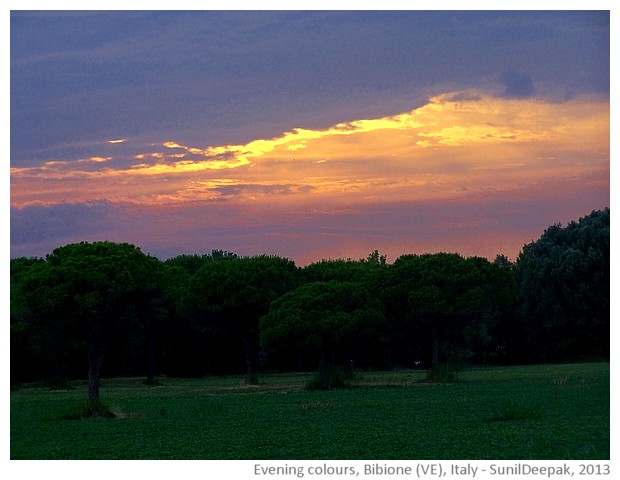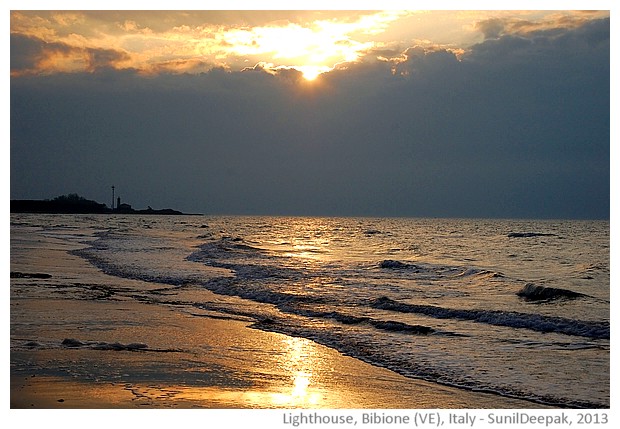 One of our family rituals is to get ourselves (I and my wife) photographed in front of the light house. To watch these pictures taken over the past 30 years is wonderful and yet sad. The last picture of this post is from that personal family album.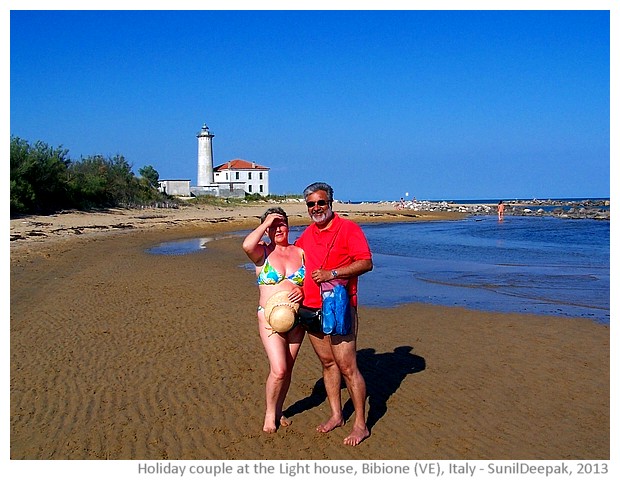 I hope that you have liked this virtual tour of Bibione and surroundings. If you visit Bibione, please do share your experiences by commenting below.
***